Global Acceptance and Adoption
2022
MLA: Malta
Remote Apron & Full Surface Surveillance – System Upgrade
CEQ: Cannes
Cannes Helipad Surveillance System
2021
LGA: Delta Air Lines
Virtual Ramp
HKG: Hong Kong
Digital Apron & Tower Management
SHA: Shanghai
Digital Tower Lab
2020
SYD: Sydney
Digital Aerodrome Services Program + DAS Lab
LHR: Heathrow
Traffic Lighting Automation
2018
HKG: Hong Kong
Digital Apron Trial
HKG: Hong Kong
Digital Tower Trial
SIN: Changi
Digital Smart Tower
LHR: Heathrow
Digital Smart Tower
ORY: Paris Orly
Remote Aerodrome Surveillance
2017
BUD: Budapest
Digital Contingency Tower
CDG: Paris Charles Du Gaulle
Remote Apron
2016
FLL: Fort Lauderdale
Virtual Apron Tower
DOH: Doha
Taxiway Lighting Automation, Remote Apron
2014
DXB: Dubai
Lighting Automation, Remote Apron
2012
YUL: Montreal
A-SMGCS GapFill
SEA: Seattle
Remote Apron & Non-CoOp Tracking
2010
MLA: Malta
Remote Apron & Full Surface Surveillance
DFW: Dallas Fort-Worth
FAA Staffed NextGen Tower
2008
AUH: Abu Dhabi
Remote Runway Surveillance
Most Advanced Digital Tower Solution
Open Data Integration and Processing Platform

Panoramic Views

Most Advanced Video Stitching/Processing

AI-Enhanced Tracking and Detection

3D Map with Augmented Reality

Intuitive HMI – ICWP

Flexible Display Configuration

Intelligent Video-Based Safety Nets
Video Analytics to Assist with Managing Traffic in a Video-Based Environment

Hardware Agnostic System Architecture (modular and scalable) 

Extensive ATC & Airport System Integration Experience

Support for Multiple Concepts of Operations

Largest Number of Global Users

Support from Tender to Certification
Perhaps you want to REPLACE an ageing tower to save on maintenance?
Maybe you need a cutting-edge control facility for a new or GROWING airport?
Maybe you're looking to create a CONTINGENCY facility, so your airport can keep running at full CAPACITY, even if your main tower is out of action?
Or to move a tower to make it more SECURE, or free up valuable space?
Or you're looking to UPGRADE a tower to handle more traffic?
Model 1: Digital Tower in Tower (DTnT)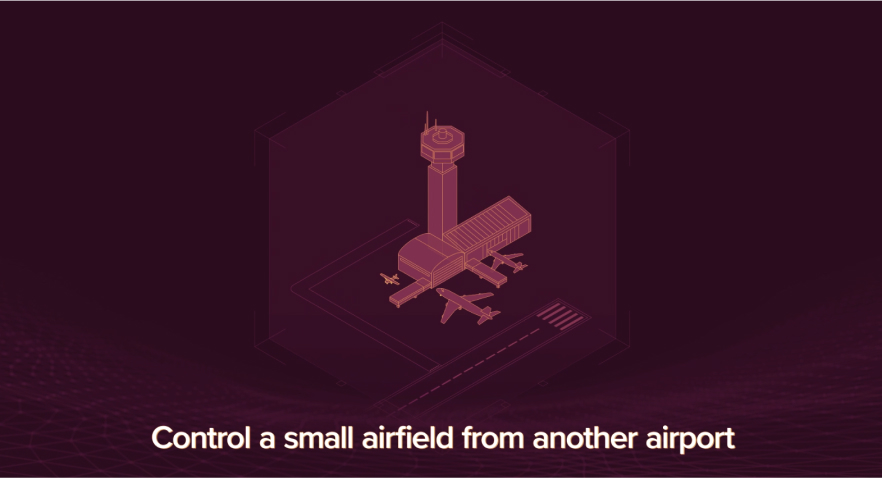 A tower within a tower to operate a small airfield remotely from inside the tower of another 'parent' airport.
Ideal for the rapid/cost effective roll out of remote operations of a small satellite / adjacent airfield from within an existing 'parent' control tower

The desk mounted immersive video display provides direct view of the secondary airfield and circuit

The DTnT controller workstation can also work within one of the other digital tower facilities;  for example, when the parent tower is moved into a digital tower facility itself.
Read the case Study
Model 2: Remote Digital Tower (RDT)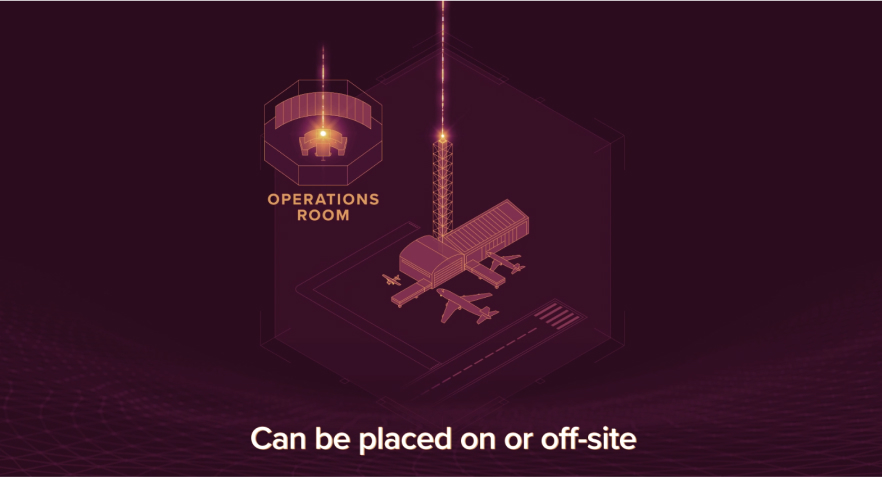 A fully digital control tower for a single runway airport, which can be either on or off-site.
Ideal for the replacement of a traditional control tower facility (including remoting) of a small airport
Typically single runway, less than 2000m runway length and with a small number of controller working positions
The video wall provides shared overall situational awareness of up to 360 degree of airport surface/traffic circuit
Each controller is provided with a desk mounted personal, UHD capable, immersive video display, enabling them to use PTZs and select layers of information, such as video tags and picture in picture
Read the case Study
Model 3: Remote Digital Tower Plus (RDT+)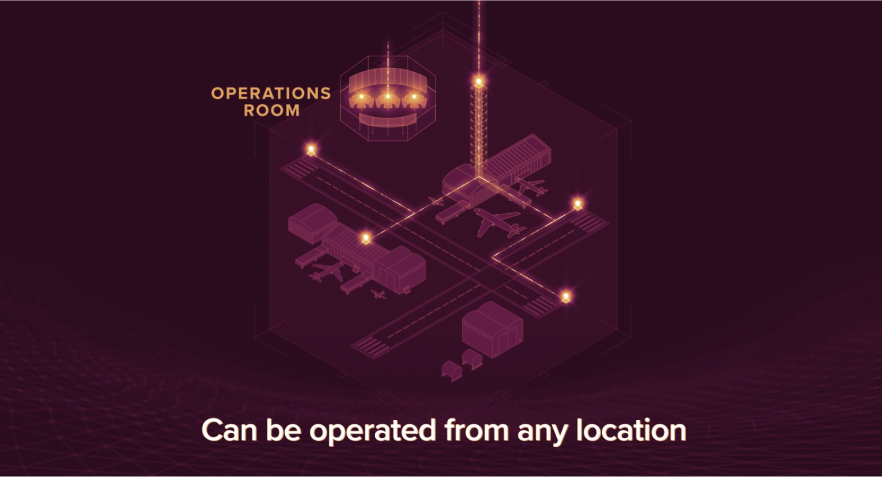 A fully digital tower for more complex, mid-sized airports which require more cameras and screens. Can be operated within the airport or from another site.
Ideal for the replacement of a traditional control tower facility (including remoting) of a medium sized regional airport.
Single or multiple runways, greater than 2000m runway length and with several controller working positions (runway control, ground control, planner/supervisor, delivery positions)
Multiple video walls to provide sufficient detail for multiple controllers, each controller equipped with role-specific UHD desk mounted displays
Read the case Study
Model 4: Hybrid Digital Tower (HY-DT)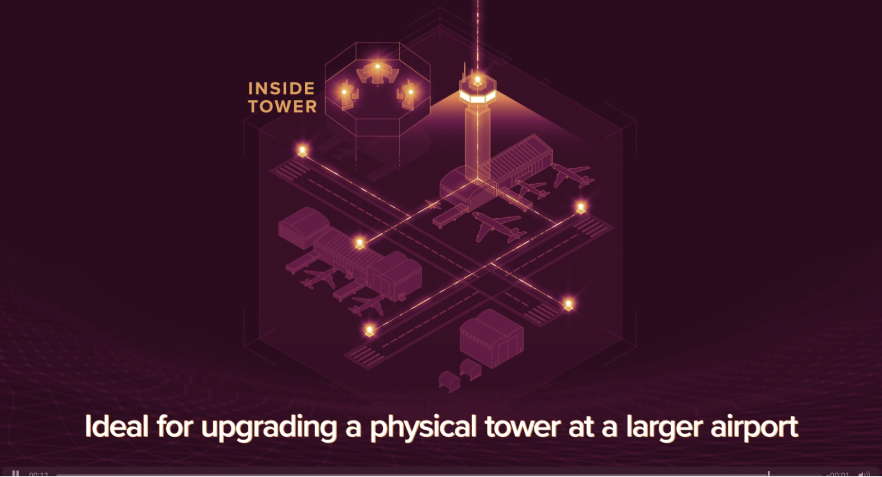 A hybrid digitized tower, ideal for upgrading and extending the capability of an existing physical tower at a larger airport by incorporating camera feeds and screens.
Ideal for the upgrade of a physical control tower or airport expansion at a large, multi runway / terminal airport
Enhanced controller views by bringing previously unseen detail of their geographical area of responsibility direct to them via their own, desk mounted, immersive video display
Integration with ATM systems to enhance the data available to all controllers
Provides additional application-based support tools
Read the case Study
Model 5: Hub Digital Tower (HB-DT)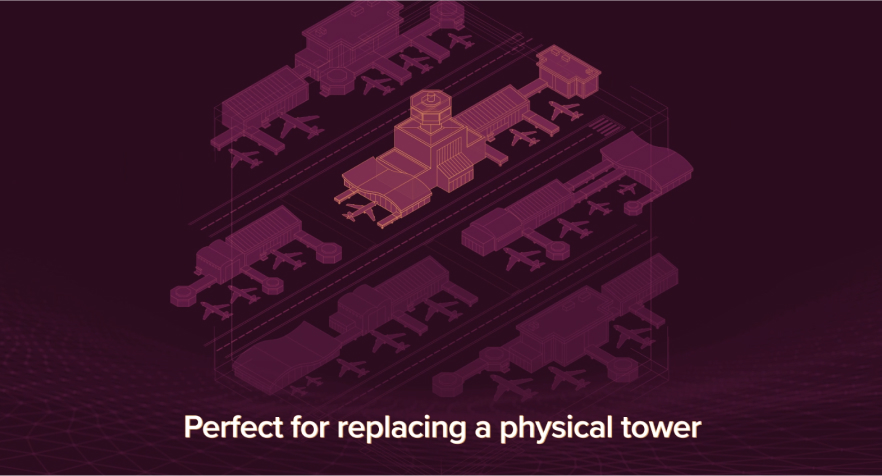 A fully digital tower, perfect for replacing a physical tower at a major, multi-runway, multi-terminal airport, or for creating an equally capable contingency facility.
Capable of the same or greater ATC service delivery as the extant physical control tower
Distributed camera installation locations allow for main ATC tower like views and auxiliary views providing additional visibility of areas such as distant concourse stands
Bi-directional integration of ATC systems enables data-rich DT displays at the CWP and video wall and allows for consolidation of existing CWP systems into one integrated DT CWP
The open Searidge data integration and processing Platform enables data sharing between various aerodrome stakeholders, for example ANSPs and airport operators, through a single cyber secure data backbone
Read the case Study