Digital Apron Control Tower
Also known as Virtual Ramp, Digital Ramp or Virtual Apron, the concept can be seen as a reduced scope of the Remote/ Digital Tower concept for Air Traffic Control where a physical tower is replaced by an augmented video view of the airside environment. Through the augmented video it will provide situational awareness for the area of responsibility for each apron controller. Through video analytics and integration of all equipment and solutions being utilized at the apron, an improved awareness will be provided with additional operational and technical intelligence to reduce the workload and complexities for all stakeholder involved in the processes.
By seamlessly stitching multiple camera views together, Searidge can provide airport operators with a live panoramic view of one or multiple geographically dispersed aprons, de-icing pads, and aircraft parking areas. The Searidge Digital Apron Control System (DACS) eliminates the need to be physically looking out of the window to see live traffic activity, and instead allows for a centralized operations centre approach, which can free-up valuable human resources and real-estate, and increase throughput as airport operations personnel can be co-located in one cohesive unit.
Replacement
Your existing apron tower(s) is approaching end of life and you want to replace it with a central remote tower center.
Expansion
You are looking to support your airport expansion by remotely controlling a new area of the airport (with no visual line of sight) from the main apron tower.
Contingency
You want to add a contingency apron tower as part of your resilience planning.
Hybrid
You want to offer hybrid apron control by adding digital apron capabilities into an existing apron tower; to augment apron views, show blind spots and provide views during low visibility conditions.
Consolidation
You want to move control of a secondary apron tower into the main apron tower operation during low traffic times or more permanently.
Features
Intelligent airside security using safe, reliable, live video
Video of traffic and gate areas to visually confirm and validate target
Modular design to accommodate airport growth
Redundant architecture for ATC and airport use
Ability to shutdown auxiliary/smaller apron towers (where multiple exist) and continue operations from a single apron tower
Flexible coverage options: OTW ranging from 90° to 360° field of view

Multiple OTW views, deployed where required
Multiple PTZ camera (digital binoculars)
Ability to consolidate multiple positions into a single position, depending on time of day and traffic density
AI-based non-cooperative detection
Open architecture and industry standard interfaces
Flexibility to expand the system with airport needs (e.g. future expansion of apron areas, expansion of working positions to deal with increased traffic, etc.)
Flexible display options:

Large: centralized control room to
Small: integration into existing Apron Tower Cab and Controller Working Positions (CWPs)
Unlimited number of working positions
Additional Functionality
Integration with airport systems such as AODB, ground lighting systems, FIDS, billing systems
Apron management applications: gate automation (metering, accurate block on/off times, real-time pushback notifications, etc.)
Enabling Airport Collaborative Decision Making (A-CDM) through intelligent video surface management applications and integration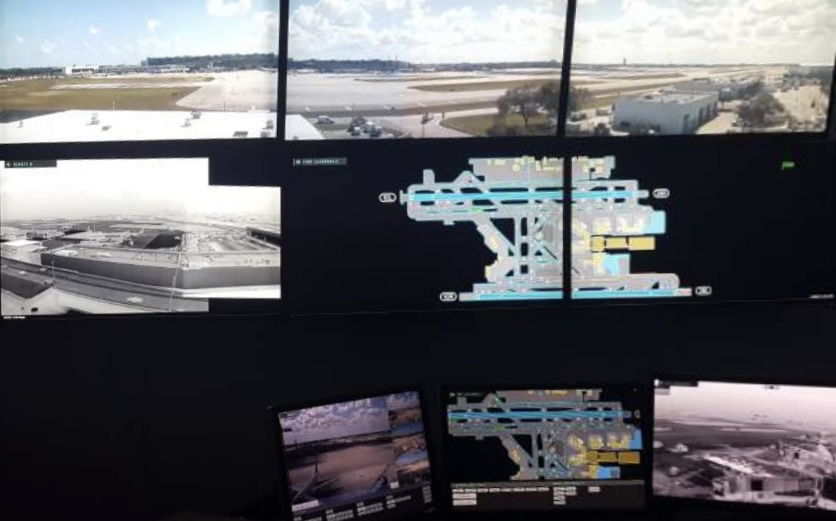 Benefits
Support decision making
Facilitate resources allocation
Improve on-time performance (OTP)
Coverage in low-visibility operations
Monitor and alleviate the possibilities of human error which will affect the OTP e.g. auto checking of data inputs, issuance of alerts for missing information
Integrate information from various operational systems and consolidate the information into qualitative/quantitative parameters, including stand availability, ramp operation status, etc.
Assist holistic planning
Present users with a rich integrated HMI combining the alerts and video monitoring for efficient management of the system.
In Use
First of its kind in the United States: Fort Lauderdale–Hollywood International Airport (FLL)
The Virtual Ramp Control System allows ground traffic on the North and South sides of the airport, which was previously monitored and directed from a small structure adjacent to the airport's ramp area, to be monitored and controlled remotely in the AOCC.
Searidge's software gathers information from visual sensors and combines it with data provided from the Amadeus Airport Operational Database (AODB) to display information to the ramp controller using a video overlay. Information displayed includes: airport of origin, aircraft type, aircraft callsigns, arrival gate, and more. The airport has achieved their goal to remotely manage ramp traffic safely and effectively. As the airport grows, the implementation of the VRCS will allow maximum airfield efficiency and minimize congestion caused by the ongoing construction of the airport's new runway and taxiways.
Read the case Study